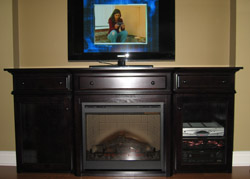 Home Entertainment / Home Office
Technological advancements over the last of couple decades to both fireplaces and home entertainment systems have instigated a natural merging of the two systems. We have encountered an increasing desire for designs that combine both fireplace and home theatre. Wood Duck will also design and create your home office or library.
This And That
Over the years Wood Duck has enjoyed the opportunity to expand both our creative and woodworking experience while satisfying a few more of the needs and desires of our customers. In this gallery you'll find a cross-section of wood products ranging from big to small, from simple to complex, for every room in the house.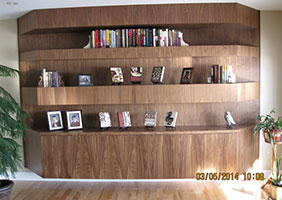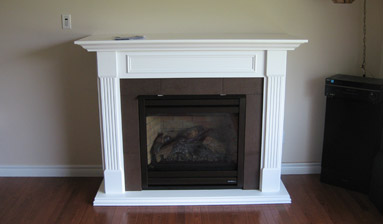 Fireplace Finishing
For 25 years the staff at Wood Duck have been providing fireplace finishing solutions with style, security and simplicity.
Whether a traditional, contemporary or original custom design, at Wood Duck we have done them all.
Wood Duck products comply with all manufacturer's clearance requirements and standards insuring full confidence and security in the safety of our products.
Wood Duck fireplace finishing products are designed for the greatest possible ease and simplicity of installation.
Browse the galleries to see our wide variety of fireplace finishing solutions . Over the years Wood Duck has designed fireplace mantel surrounds and cabinets for most manufacturers in the fireplace industry